Hiking the Hidden Gems to Find Peace – Snowy Range Mountains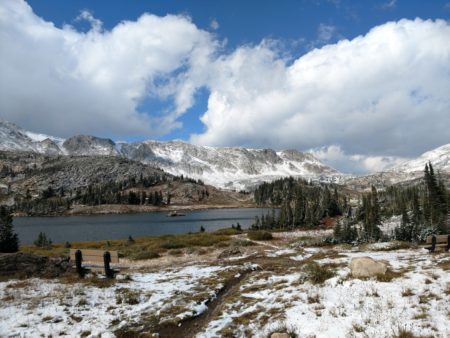 We drive through Laramie, Wyoming and turn west toward our destination. Antelope dot the horizon in every direction, herds gracefully graze together. Before long we arrive in Centennial, Wyoming population 200 something; the hub for the Snowy Range Ski Resort. We stop for firewood at the local grocery store, feeling as if we have stepped back in time. It's mid-September and we know it's a risk heading up to 11,000 feet elevation. Already the sky toward the Mountain peaks is clouded in white: Snow. The 60 degree change in temperature, from where we came from, is quite noticeable.
As we head up into Medicine Bow National Forest, the leaves are already transforming with vibrant oranges that stun the eyes. Beauty in change is all around. Medicine Bow National Forest was founded on May 22, 1902 with the establishment of the Medicine Bow Forest Reserve, by President Theodore Roosevelt. Its history, however, is rooted in Native American tradition of making mahogany bows.
Winding up the road, we notice that the trees aren't as dense as many National Forests. Bitter cold wind blows and icy rain falls, as we reach Sugarloaf Mountain Campground in the Snowy Range Mountains of Wyoming. With cellphones turned off and our black lab puppy running circles, we decide to head out on a hike. The Sugar Loaf Recreation Area is around Sugar Loaf Mountain, Lewis Lake, Libby Lake, and many other small lakes. Though none of the trails go directly around the lakes, one can easily hike down and explore around their shores. The area offers trails leading up to the rocky peaks, where the views are breathtaking.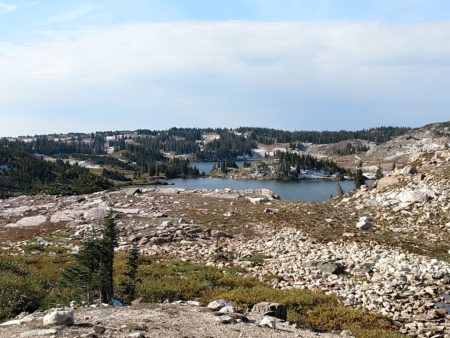 The trail we set out on starts off flat and then quickly inclines up. It is covered in big and small rocks that slip under our boots; black rocks, grey rocks, beautiful quartz, all there to dazzle. The wind blows cold in our faces, numbing our rosy cheeks. The higher we climb, the more spectacular the view becomes. The falling snowflakes have painted the tundra landscape white. Miraculously flowers colored purple and yellow peak out from under the sparkling powder. Windblown and energized, we return to camp for a hot meal.
The next day is warmer and the wind has stopped. We start a different hike; one where the trail is less obvious, due to an overgrowth of foliage. Much of the snow has already melted and the scenery is a different painted image. Puddles of water create obstacles and we decide to step off the path. Up a hill we find a huge rock to sit on and soak up some warm sunrays. The view below is incredible. Snowy Range is a unique place to hike. So many hikes take us through wooded areas, plush with foliage; or a monotonous landscape. The hikes around Sugarloaf Mountain provide an eerie like scenery that changes from woodsy to arid tundra. At elevations ranging from 9,000-12,000 feet; snow can come to Snowy Range any time of the year. The good thing is, there are many hiking options from easy to more difficult, so it fits most people's requirements. Do be aware of your footsteps, as the rugged terrain and rustic granite formations can pose a danger.
Hiking in the Snowy Range Mountains is worth it, if you want to get away from the chaos of the times.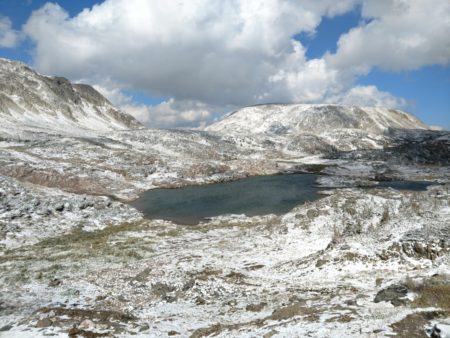 With the constant assault of terrible news daily, we tend to suffocate in the weariness. For me, retreating to the beauty of nature is one of the best remedies, as it puts things into perspective. Hiking seems to clear my mind, refresh my soul, and bring to light the small wonders on this earth. This is more effective when I explore the lesser known trails, where the variety of Nature expands.
My advice is to go away from the popular destinations and trek the routes that embrace silence. Snowy Range, in Wyoming, is one of those places; a place where you see more landscape than people. It's a wonderful wilderness area that allows you to breathe deep and detox from technology. A good life requires us to do just that.
Mother Nature provides an endless amount of trails to explore and discover, so why not Go?
Find your trail to a better way of life.
Advice from a Trail: "Find inspiration around every corner" Your True Nature Inc.
Article by Alycia Roller
Alycia Roller works for Your True Nature, the producers of the Advice from Nature products. Her number one passion is writing about life adventures and people's stories. In her spare time you can find her walking her dog Minka, hiking with her husband, or working on a project to help South Sudanese Refugees in Northern Uganda. Her go to remedy in life is Nature.